Learn about Oklahoma mineral rights, the best counties, how to find your wells on a map, valuations, transferring ownership, paying taxes, and more.
Oklahoma Mineral Rights
Oklahoma ranks #12 in the United States oil production and #9 for natural gas.  Oklahoma's history is rich with tales of fortunes gained and lost in the oil patch. Today, the most prolific area is the SCOOP and STACK shale plays.
About Oklahoma Mineral Rights
As a Oklahoma mineral owner, you may find the following topics informative and relevant to your mineral rights.  
Top Producing Oil & Gas Counties in Oklahoma
Oklahoma has 77 counties, and almost all of them produce some amount of oil and gas.  However, only 20 counties produce a significant amount of hydrocarbons. Is your county one of them?
How to Locate Your Oklahoma Mineral Rights
Oklahoma Rights Value
The value of Oklahoma mineral rights depends on a variety of factors, including location, production status, production volume, commodity price, lease development, lease terms, and the operator.
Find Your Oklahoma Mineral Deed
Transferring Ownership of Mineral Rights
It's best to have an attorney help you transfer the ownership of Oklahoma mineral rights.  Learn why.
Sell Your Oklahoma Mineral Rights
Get an offer for your Oklahoma mineral rights.  There is no obligation to sell, and it won't cost you anything.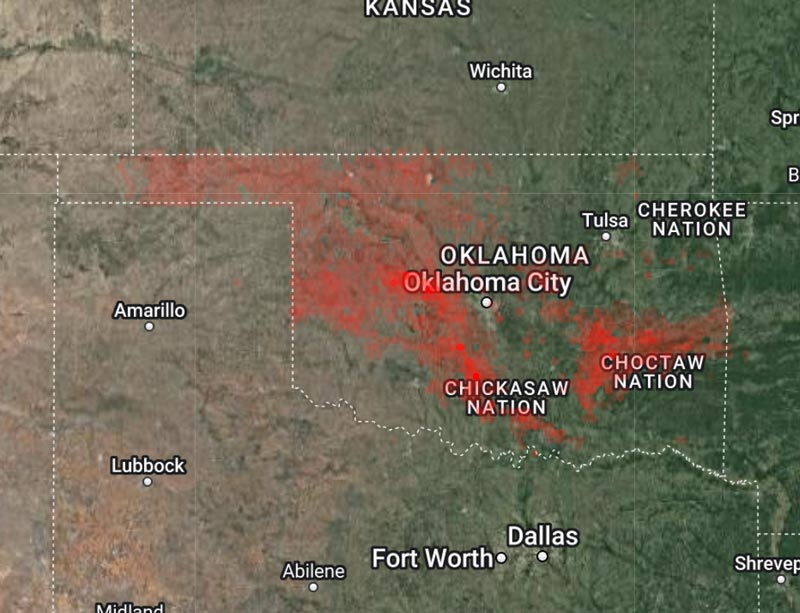 Image Description: ShaleXP's Oklahoma oil and gas development map as of 2022.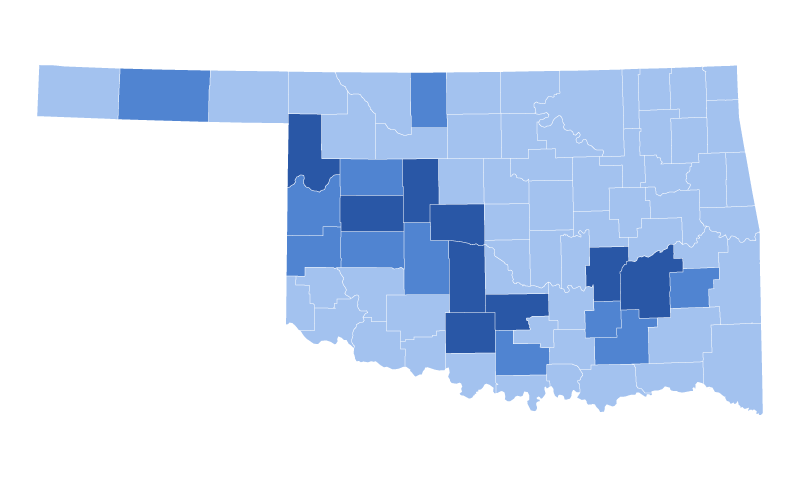 Top Oil & Gas Producing Counties in Oklahoma
We buy mineral rights throughout Oklahoma.  Minerals in the SCOOP and STACK have the most prolific wells, but we will buy minerals anywhere in Oklahoma.  These are the top-producing counties:
Canadian
Grady
Pittsburg
Custer
Blaine
Ellis
Stephens
Garvin

Hughes
Dewey
Coal
Roger Mills
Alfalfa
Carter
Caddo
Latimer
NOTE: It is important to realize that, even in the top counties, there are areas of the county that produce large amounts of oil and gas but other areas that produce none.  The location is very so important!
Oklahoma Shale Basins
There are three main shale basins in Oklahoma.  Each has its own characteristics and has been developed at differing rates.  Here is a breakdown of each.
Anadarko
The Anadarko spans parts of Oklahoma, Kansas, Colorado, and Texas and is 40,000 feet deep. It contains the SCOOP, STACK, Woodford and Mississippi Lime formations.
SCOOP
The SCOOP is a geographical location rather than a geological formation.  Targeting the Woodford Shale in parts of Garvin, Grady, Stephens, Murray, and Carter Counties.
STACK
The STACK is also a geographical reference that includes parts of Canadian, Kingfisher, Blaine, Major, and Garfield counties.
Locating Your Oklahoma Mineral Rights
Your oil or gas well might seem abstract. You probably inherited it, and your family hasn't lived in the area for generations.
When you see your mineral rights on a map, they become less abstract.  You also have access to a lot more information about the wells on your property and in the vicinity.  For example, you can view historical production volumes or become aware of newly permitted wells.
All you need is your legal description.  This can be found on your property deed or oil and gas lease.
In Oklahoma, a legal description looks something like this:
N2 NW4 SE4 Section 15, Township 14 North, Range 7 West, Canadian County, Oklahoma
Once you have the legal description, you can use the Oklahoma Corporation Commission's Well Data Finder to locate your legal property. It's not as intuitive as other states, so you may have to navigate to the county and locate the Township and Range first.
Struggling?  Contact us and we can look it up for you and send you a screenshot.
Oklahoma Mineral Rights Value
Oklahoma mineral rights are valued differently if they are producing vs. non-producing.
Producing Oklahoma Mineral Rights Value
Producing minerals are mineral rights with an active oil or gas well that is producing economically viable quantities of oil or gas.
Modern Valuation Method
Modern valuation methods use data from royalty statements and public sources to model future revenue based on various pricing scenarios. This method takes into account the production volumes, decline, deductions, and commodity prices. Most mineral buyers use this valuation method.
In the past, they used to use the Rule of Thumb, which is roughly 30 – 60 months of royalty revenue based on a variety of factors.
Non-Producing Oklahoma Mineral Rights Value
Non-producing minerals do not have a producing oil or gas well. Because there are no wells, there will be no royalty payments.
Typically, non-producing minerals are valued based on a multiple of the expected lease bonus.
For example, if the going lease bonus in the county ranges from $100-$500 dollars, you can expect to sell your mineral rights for the lease bonus times the number of net mineral acres (NMA) that you own.
The value of non-producing minerals is usually stated as a price per acre. The price per acre varies from state to state, county to county, and even within a county.
Interested in learning more about the value of your mineral rights?  Check out this guide on 7 Factors That Influence the Value of Mineral Rights or this video about why Location is Everything (via YouTube).
Finding Your Mineral Deed
The first step in being a responsible mineral owner is the know what you own so that it can be properly managed.  There will come a time, either before your die or after, when the minerals will need to be transferred to the next generation or sold.
It's a good idea to keep a copy of your mineral deed (and the previous deeds) in your files.  Non-producing minerals tend to be "out of sight, out of mind" and are easily forgotten.  Having a copy of your deed will help prevent this from happening.
Fortunately, Oklahoma County Records makes it easy to locate most mineral deeds and other title documents related to your mineral rights.  Simply search the county records for your name and the names of the people from whom you inherited the mineral rights.  Most of the time, you can search for free, and documents can be purchased for a few dollars.
You might find conveyances, deeds, assignments, affidavits of heirship, lease memos, and other relevant documents.
If you're thinking about your estate plan, you might find our guide, Four Things Older Mineral Owners Should Consider," to be thought-provoking.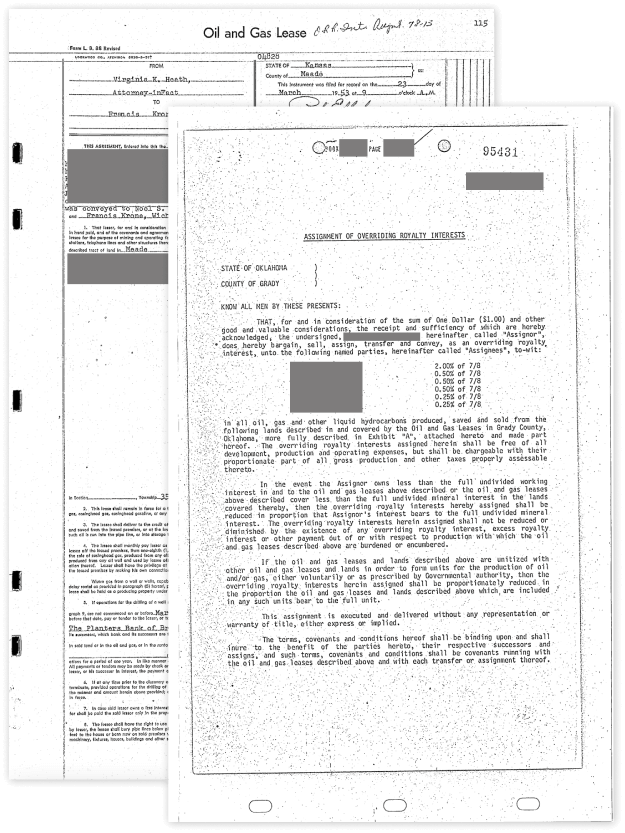 Transferring Ownership in Oklahoma
You should consult an attorney regarding the transfer of oil and gas mineral rights in Oklahoma.  The proper way to transfer title is by deed or court order (including probate).  However, mineral owners often use an Affidavit of Heirship (AOH), which allows the next generation to get into pay status with the operator, but can cause problems down the road when it's time to sell.
You always want to have a "marketable title" to your mineral rights, so it's worth doing the transfer correctly.  Consult an attorney and get professional advice on transferring mineral rights.
Once you have a deed, assignment, or another document, conveying the mineral rights to you, have it filed in the county where the mineral rights are located. Once the document has been recorded, send a copy to each operator.  More than likely, the operator will send you a division order and put you into pay status.
Need more help (transferring before/after death, after a divorce, or into/out of a trust)?  We have a guide on Transferring Mineral Rights that may help.
Where We Buy Mineral Rights
We buy both producing and non-producing minerals in all oil and gas states. However, we are especially interested in Texas, Oklahoma, and Kansas mineral rights.
Wyoming
Montana
North Dakota
We even buy minerals in more obscure states, such as Michigan and Illinois, which produce a very little oil and gas compared to other states.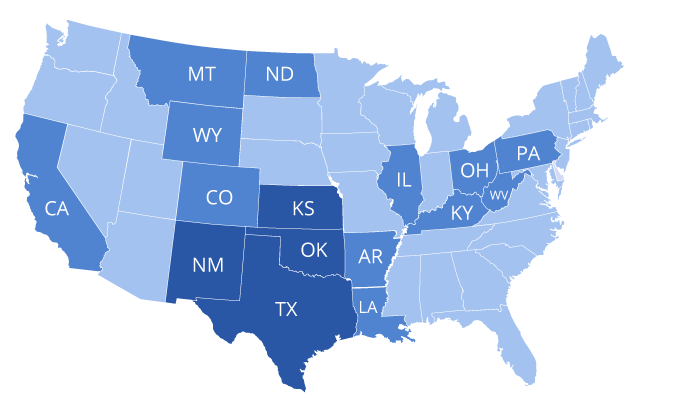 How We Value Mineral Rights
There are many factors that play into the value of mineral rights. These include location, producing vs. non-producing properties, current oil and gas prices, well production figures, lease terms, and even the operator of the well or wells. We also look at the risks of buying and owning minerals that you are interested in selling.
Location
Minerals in the hottest shale plays are more valuable than those in older fields with conventional wells.
Producing vs. Non-Producing
Producing minerals are often worth more than non-producing minerals because they are generating revenue.
Oil & Gas Prices
When oil and gas prices drop, revenue drops, and sometimes operators are unable to continue operating the well.
Production
Highly productive wells (and off-set wells) can increase the value of your minerals.
Lease Terms
Favorable lease terms (such as a 25% royalty reservation) positively impact the value of the leased minerals.
Operator
A small number of operators are unethical, and their reputation automatically devalues your minerals.
Why Sell?
People
sell mineral rights for a variety of reasons
. As a mineral owner, you are fortunate to own an asset that can be quickly converted to cash. It is advisable to sell while you are still receiving royalties – after all, oil and gas are finite resources, and all well eventually run dry. It's better to sell early and maximize the value.
Why People Sell Their Mineral Rights
I am putting my affairs in order. I don't want to burden my kids with the hassle of transferring ownership and managing small mineral rights. When my sister passed away, my niece and nephew had to hire an attorney to help them with the minerals. I don't want my kids to go through that.
I inherited my mineral rights so they were sentimental, but I don't really want to bother with managing them and filing extra tax returns. I decided to sell and use the money as a down payment on my house.
I had no idea how fast the oil production would decline. My checks are only 20% of what they were a few years ago. I should have sold my mineral rights when the wells were brand new and still generating huge royalties.
My oil wells have been producing for decades and the reserves are almost depleted. Once the wells are plugged, the value will be significantly lower. I'd rather cash out now.
I inherited mineral rights, but don't want to be involved with fracking and fossil fuels. I would prefer to support renewable energy and do my part to reverse climate change.