We buy oil and gas royalties and mineral rights throughout the United States.
Brief Overview
We buy oil and gas royalties and mineral rights in Texas, Kansas, Oklahoma, New Mexico and throughout the United States. If you have a clean title and relevant documents (royalty statements, division orders, lease, title documents), we can move this process along quickly. We can usually give you an offer in 48 hours. Unlike a lot of companies, we don't flip minerals. We pay cash, and we keep what we buy, which allows us to offer a fair market price and close quickly.
6 Things That Set Us Apart
We are not going to tell you that we are the only ethical and honest mineral buyers in town because it simply isn't true. There are lots of reputable buyers. Here's what really sets us apart:
1. We're Just Like You!
I'm not a landman. I don't have an MBA. I'm entirely self taught and I started out like you – I inherited mineral rights and later started buying them.
2. We are Self-Funded
We aren't backed by private equity or venture capital. We are entirely self-funded, using the royalties we earn to buy more mineral rights. We are spending our own money – not someone else's!
3. We are Woman Owned
Blue Mesa Minerals is a woman-owned business. Our Founder and President is a woman, and you don't see many women in the mineral acquisition space.
4. We Also Buy Small Minerals
Most mineral buyers turn away small minerals because of the time and cost involved. We welcome small mineral owners and treat them the same as someone with much more valuable minerals.
5. We Don't Flip Minerals
We don't flip mineral rights. We keep what we buy and use the royalties to buy more minerals.
6. We Focus on Education
Our goal is to educate mineral owners so we provide graphs, maps, and background info with each offer. We want you to know what you're selling!
Testimonials
See what these former mineral owners say
about their experience with Blue Mesa Minerals.

Family Trust
"I am immensely pleased with the process of selling my inherited royalty properties to Blue Mesa Minerals. Danna made the transaction easy and fast with quick responses on all communication and quick payment to close out the deal. My headache with managing these mineral interests and dealing with tax filings is now gone for good. HOORAY! Thank you Danna Blumeneau. Highly recommended".
– Kelly M.

Sentimental Value
"My small mineral rights came with stories and sentiments that far exceeded their monetary value. Danna understood both sides of the transaction, providing me with the documentation, perspective, and time I needed to make the best decision for me and my family. I had a million questions, and she addressed each one with professional care. Danna is a joy to work with, and I highly recommend her exceptional services."
-Beckie B.

Great Info
"I am so glad I contacted this company to see if they would be interested in making an offer on my mineral rights. Danna helped me from start to finish. She provided me with honest and informative answers to my never-ending questions, and made the process a lot less stressful for me. I am so thankful! I highly recommend this company."
Miranda D.
100 Years
"Oklahoma minerals have been in my family for 100 years, and as an Ohio resident unfamiliar with the industry I felt the time had come to sell. But how? I found BlueMesaMinerals on U-tube and Danna's informational videos instructive, so I contacted her. I provided copies of documents for her to research which resulted in her offer to buy. Her offer I felt was fair, very detailed as to production and revenue, with location maps included to support her analysis. Danna was a pleasure to "do business" with – an excellent communicator of details and process, prompt responses to emails and phone calls. Thank you Danna!"
– Paula M.

Super Helpful
"Danna was so helpful when I recently reached out to her for help with some inherited mineral rights we had considered selling. She even contacted some possible buyers for us as she was not interested in purchasing our rights. We ended up not striking a deal but she gave me an honest professional opinion and advice for any future lease or sale opportunities. Danna also directed me to helpful websites to keep up with current production and drilling information in the two Oklahoma counties we own right in. If you need help with mineral rights contact Blue Mesa Minerals, you will not be sorry!"
– Donna C.
Our Values
Mineral rights are often sentimental and come with extensive family histories and emotions. We understand that it can be difficult (and sometimes a relief) to sell your mineral rights. We're here with you and will educate and guide you through the process.
Fair Valuations
Both the buyer and the seller should be getting a fair deal – with neither party receiving the "short end of the stick". Both parties should walk away happy.
Integrity
We treat sellers with respect and honesty. What goes around, comes around. We want good things to continue to flow our direction, so we treat people fairly and with honesty.
Quick Closing
We know people sometimes sell their minerals because they need money yesterday – so we make every effort to close quickly (ideally within two weeks).
No Pressure
Selling your mineral rights is a big decision, and one that you shouldn't take lightly. We are happy to answer questions and we will not pressure you to sell.
Where We Buy Mineral Rights
We buy both producing and non-producing minerals in all oil and gas states. However, we are especially interested in Texas and Kansas mineral rights.
Oklahoma
Wyoming
Montana
North Dakota
We even buy minerals in more obscure states, such as Michigan and Illinois, which produce a very little oil and gas compared to other states.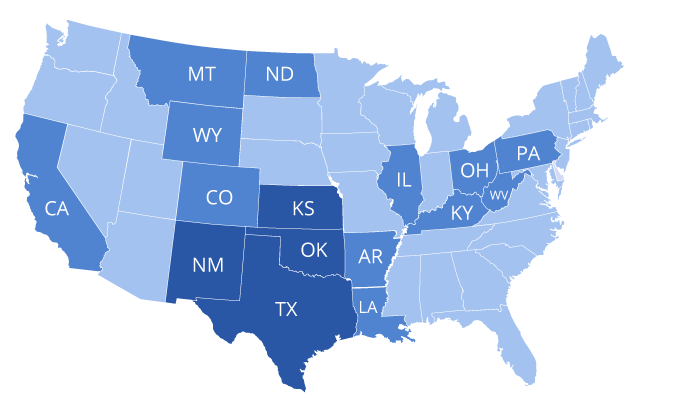 How We Value Mineral Rights
There are many factors that play into the value of mineral rights. These include location, producing vs. non-producing properties, current oil and gas prices, well production figures, lease terms, and even the operator of the well or wells. We also look at the risks of buying and owning minerals that you are interested in selling.
Location
Minerals in the hottest shale plays are more valuable than those in older fields with conventional wells.
Producing vs. Non-Producing
Producing minerals are often worth more than non-producing minerals because they are generating revenue.
Oil & Gas Prices
When oil and gas prices drop, revenue drops, and sometimes operators are unable to continue operating the well.
Production
Highly productive wells (and off-set wells) can increase the value of your minerals.
Lease Terms
Favorable lease terms (such as a 25% royalty reservation) positively impact the value of the leased minerals.
Operator
A small number of operators are unethical, and their reputation automatically devalues your minerals.
Why Sell?
People
sell mineral rights for a variety of reasons
. As a mineral owner, you are fortunate to own an asset that can be quickly converted to cash. It is advisable to sell while you are still receiving royalties – after all, oil and gas are finite resources, and all well eventually run dry. It's better to sell early and maximize the value.
Why People Sell Their Mineral Rights
I am putting my affairs in order. I don't want to burden my kids with the hassle of transferring ownership and managing small mineral rights. When my sister passed away, my niece and nephew had to hire an attorney to help them with the minerals. I don't want my kids to go through that.
I inherited my mineral rights so they were sentimental, but I don't really want to bother with managing them and filing extra tax returns. I decided to sell and use the money as a down payment on my house.
I had no idea how fast the oil production would decline. My checks are only 20% of what they were a few years ago. I should have sold my mineral rights when the wells were brand new and still generating huge royalties.
My oil wells have been producing for decades and the reserves are almost depleted. Once the wells are plugged, the value will be significantly lower. I'd rather cash out now.
I inherited mineral rights, but don't want to be involved with fracking and fossil fuels. I would prefer to support renewable energy and do my part to reverse climate change.
Frequently Asked Questions (FAQ)
Selling your minerals is a big decision. We're here to help answer your questions so you can make an informed choice.
How Long does it take to sell my mineral rights?
It depends.  We can often provide an offer within a few days and close in a week, but that depends where the minerals are located and how easy it is to verify a clean title.  In some areas, records are online and we can move quickly.  Other areas require that title records be sent via mail. In some cases there is a title defect that must be corrected before we can close.  
The bottom line is that we try our best to close within a week or two.  It rarely takes longer and sometimes, we can close in a matter of days – especaially in cases where the mineral owner is near death and the family needs to get the minerals out of their estate to avoide costly probate proceedings.
Do all mineral rights lose value over time?
Yes. Oil and gas are finite resources, and all petroleum reservoirs will eventually be depleted, some faster than others. Additional wells can temporarily increase royalty income. However, as technology advances and operators pull oil and gas from the ground faster, decline curves accelerate, shortening the productive life of a well.
Many mineral owners choose to sell their minerals while the value is still high. That money can be invested in other ways, used to improve your lifestyle (new car, new house, remodel, vacation, wedding, solar panels, or any number of other options).
What raises the value of my mineral rights?
The following factors will increase the value of your mineral rights:
Clear title
Permitted wells onsite
Newer wells (but not too new)
Flatter decline curve
Favorable lease terms
High oil and gas prices
Operator with a good reputation
Potential for additional wells
What lowers the value of my mineral rights?
Here are some of the following factors that can decrease the value of your mineral rights: 
Title Problems
Non-producing minerals
Property that is held by production (HBP) by low-producing wells
Leases that hold excessive non-producing acreage
Steep decline curves
Poor offset production (for non-producing properties)
Low oil and gas prices
Operator with a bad reputation
Leases that allow operators to have free use of oil and gas
Poor economy or recession
I'm not sure I want to sell everything. Can I sell part of my mineral rights?
Absolutely. You can sell any percentage of your mineral rights (it is common to sell 50%). You can even sell the royalty interest and keep your mineral interest. Selling only the royalty interest is a way to get a lump sum of money now and still keep the mineral interest in your family.